HISTORY OF VJ-1

Lest We Forget........
The Navy's most recent VU-1 began in 1951, when Utility Squadron One (VU-1) was established at NAS Barbers Point, Hawaii. From its beginning, the second VU-1 assumed the traditions of its Pacific Fleet utility unit predecessor, VJ-1 (VU-1) after 1946), established 5 October 1925 at NAS San Diego, California.
VJ-1 provided first major assignments was the 1926 aerial mapping of Alaska, followed by a second Alaskan survey in 1934. VJ-1 was based at NAS Pearl Harbor during the Japanese attack on 7 December 1941. VJ-1 pilots launched from Ford Island in their plodding J2F and JRS amphibians in search of the enemy ships. One JRS approached within 50 miles of the Japanese task force before being driven back by enemy fighters, crediting VJ-l as the first U.S. unit to counterattack the Japanese.
With the onset of war, VJ-1 expanded to keep up with the training demands of the Pacific Fleet units, and in 1944 a temporary VJ-1A was set up at Majuro Atoll in the Marshal Island. A Navy wide reorganization of its aviation units caused a 15 November 1946 redesignation of VJ-1 to VU-1. However, postwar reductions forced the disestablishment of the squadron on 30 April 1949.
In response to demands of the Korean War, a new VU-1 was established at Barbers Point on 20 July 1951. VU-1 provided training and support for fleet units in the 14th Naval District. On 1 July 1965, VU-1 was redesignated VC-1, Composite Squadron One (not to be confused with the ASW VC squadrons of World War II) and carried this designation until its demise on 30 September 1992. In its later years, VC-1 was known as the "Blue Alii," a reference to Hawaiian royalty.
Both VJ-1 and VC-1 flew a multitude of fixed-wing and helicopter aircraft types. The aircraft operated longest of either era, however, was the A-4 Skyhawk, which VC-1 used in target towing, electric calibration, threat simulation and - perhaps its favorite - air combat maneuvering.
VJ-1 (Early Years)

VJ-1 was established Oct 25, 1925 at NAS (Naval Air Station) San Diego, California, later to become NAS North Island. North Island is considered to be the birthplace of modern naval aviation.
While there it operated detachments at various times In Panama, Gitmom Alaska, Hawaii.
As previously noted , VJ-1' s first major assignments was the 1926 aerial mapping of Alaska, followed by a second Alaskan survey in 1934. The first Alaskan Aerial Survey Expedition was conducted between June 6 and September 24, 1926, headed by Lieutenant Ben H. Wyatt of NAS San Diego. The preparations for the expedition were largely made at San Diego, although the staging area was Seattle. The last elements of the Alaskan Aerial Survey Expedition departed Seattle for Alaska. The expedition, under command of Lieutenant B. H. Wyatt, was composed of the tender Gannet (AM 41) the barge YF 88 housing a photo lab and mobile base for the expedition, and three Loening amphibians. Two of the airplanes were OL-4s equipped for aerial photography. The third was an OL-2, which served as a standby plane for searching in case one of the photography planes was forced down. It was also the radio plane for the expedition. The work of the expedition, which extended through the summer and into September, was performed in cooperation with the Department of the Interior for early aerial mapping of Alaska. The purpose of the expedition was survey of Southeast Alaska for the Department of the Interior for use with the investigation of resources of that region. During the summer over 15,000 square miles were mapped.
The Alaskan Survey, which began in 1926, was completed in 1929 under the command of Lieutenant Commander A. H. Radford (Rear Admiral - whose distinguished naval career cumulated in service as Chairman of the Joints Chiefs of Staff l953-l957) of Aircraft Squadrons, Battle Fleet.
The history of the squadron cannot be told without some insight into the Naval Air Stations it has been associated with over it's life time. The squadron was attached to many of the NAS(s) it was based at during their beginnings.

Moffett Field History
1933-Today
The Bay Area was still a fledgling region in 1930, lacking many of the characteristics for which it is known today. The Golden Gate Bridge was still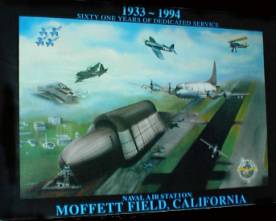 just a dream. Alcatraz was known as a fort, not a prison. And the area that one day would be recognized as Silicon Valley consisted primarily of fields and orchards. It was with great anticipation that just before Christmas that year residents waited for word about the possibility of a new major addition to the growing area by San Francisco Bay.
The wait ended on Dec. 12 when the news arrived from the East Coast. A new air base would be built on a strip of land between Mountain View and Sunnyvale at a development cost of $5 million. The base would be home to the largest aircraft the world had yet known - a dirigible called the Macon.
The news sparked celebrations throughout the Bay Area. Schools and banks closed. A victory parade of cars wound its way along the Peninsula. Fire whistles blew and sirens rang.
The base, originally named Sunnyvale Naval Air Station, would become better known as NAS Moffett Field. Its inception would bring much-needed jobs, income and prominence to this section of Northern California. But the news would mean much more in the long run, as the San Jose Mercury Herald noted in 1931: "It meant also that industries allied to aviation will spring up like mushrooms, each bringing its own payroll. It means in short that San Jose and the Bay region are on the threshold of the most glorious era of prosperity in their history."
Crowds have played a significant role in the air base's colorful history. Large numbers of residents flocked to Mountain View to witness the visit of the massive airship Akron in 1932. They returned a year later to see the Akron's sister ship, the Macon, arrive at its new home in Hangar One.
The creation of Moffett Field is a story linked to the birth of a new period in American aviation the lighter-than-aircraft era - which began with an idea about 70 years ago.
Germany had found success in using giant airships for scouting purposes during World War I, and the U.S. did not want to be left behind. These were the days before radar, and dirigibles had the capacity to scout large areas of land or sea for long periods, longer than any other aircraft at the time.
At first, the Navy had just two rigid dirigibles, the most famous being the USS Shenandoah. But the career of the Shenandoah, as with many of its p redecessors, was short-lived. The cigar-shaped airship was torn apart in a severe thunderstorm over Ohio on Sept. 3, 1925, claiming the lives of 14 officers and crewmen. The demise of the ship added fuel to a growing controversy about the military effectiveness of the dirigibles.

"When I first came in contact with rigid airships, I couldn't see anything to them," said Rear Admiral William A. Moffett, chief of the Navy's Bureau of Aeronautics in 1926. "It is noteworthy that every officer who has anything to do with these ships...is in favor of them and thinks they will be of great value to the Navy."

The advocates of this new-found technology won out. In 1926, the Navy announced that it was going to build two new airships, both larger and stronger than the Shenandoah. They would become the Akron and the Macon. The Navy quickly launched a search for a West Coast place to base one of the two ships. Navy officials initially appeared to favor Camp Kearney in San Diego. But when word about the search reached Northern California, local communities banned together to bring it to the Bay Area. San Francisco Mayor James T. Rolph made a public appeal for property large enough for a Naval base.
A young real estate agent named Laura Thane Whipple of the Alameda County community of Niles heard about a large parcel of land known as the Ynigo Ranch between Mountain View and Sunnyvale that might be available for such a purpose. Accompanied by her mother, Whipple, one of only a handful of women real estate agents in those days, paid the 1,700-acre site a visit.
Whipple reportedly was convinced the moment she gazed in silence at the spread of broccoli, cauliflower and hay fields. When asked what she saw, she responded, "an air base."
Whipple went to work recruiting the help of the San Jose Chamber of Commerce and Bay Area newspapers. Soon just about all of the Peninsula communities were taking part in this regional campaign which would not be equaled until 1937 when cities came together in a similar fashion to build the Golden Gate Bridge.
In an attempt to better their chances of receiving the base, Santa Clara, San Mateo, San Francisco and Alameda counties set up a financing program to buy the land and donate it to the Navy for the purposes of building an air base. San Francisco raised $330,000, while Santa Clara County communities contributed most of the remaining $100,000 to buy the land.
The communities eventually purchased 1,000 acres of the bayside property for $476,066. Still, the Navy had not made up its mind. After discarding dozens of possible West Coast sites, the choice was between Camp Kearney and the Bay Area.
The competition between the two regions was fierce. San Diego newspapers claimed the Bay Area site was too foggy. Camp Kearney was criticized for having too much heavier-than-air traffic and being vulnerable to attack from many directions.
The competition ended in December. Two months later, President Herbert Hoover, himself a product of Stanford University, signed the bill that authorized the Navy to accept the Mountain View property for one dollar and appropriated $5 million for construction on the base to begin as soon as possible.
Noted a San Francisco Chronicle editorial at the time: "What has been done with Sunnyvale is an example of what Northern and Central California can do when they play the game." This game, the Bay Area had won.

Rear Admiral William A. Moffett
1869-1933
William Moffett was the architect of naval aviation. During the critical formative years of the 1920s and 1930s, Moffett shaped the way the U.S. Navy would use air power. He was born in Charleston, South Carolina during the Reconstruction years, Moffett graduated from the Naval Academy in 1890, and was awarded the Medal of Honor as captain of the cruiser Chester during the 1914 landing at Veracruz. His first foray into aviation came during World War I when, as commanding officer at the Great Lakes Naval Training Center near hicago, he joined with local business leaders to launch an aviation training program. Later, commanding the superdreadnaught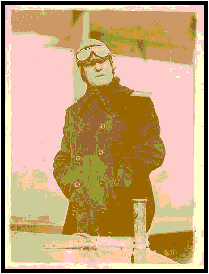 battleship Mississippi, he supported the formation of a ship plane unit for spotting and scouting.
Moffett became known as the Air Admiral, though he was not by training an aviator. He championed the creation of the Navy's Bureau of Aeronautics, established in 1921, then served as its chief until his death in 1933. As chief of BuAer, Moffett integrated the tactical use of airplanes and airships with fleet operations, managed the introduction of new technologies like the aircraft carrier, rationalized procurement to bring satbility to the burgeoning American aircraft industry, and created new training and career paths for aviators. Moffett very skillfully used public relation opportunities to build support for naval aviation in a time of tight defense budgets, and he skillfully confronted General Billy Mitchell when Mitchell called for a unified air force at the expense of a separate naval air arm. Moffett saw aviation as an integral, organic part of the fleet.
Moffett also advocated large rigid airships as a solution to naval reconnaissance problems. He chaired the committee that established, in February 1931, the Sunnyvale naval air station as a West Coast base for the dirigible Macon. Moffett lost his life when the airship Akron went down off the coast of New Jersey on 3 April 1933. With 73 people dead or missing, the loss of the Akron was to that point America's worst aviation accident. The Sunnyvale station opened only eight days after his death and, in June 1933, the Navy changed its name to Naval Air Station, Sunnyvale, Moffett Field.
In an attempt to reduce the federal budget deficit, U.S. Secretary of Defense Dick Chaney in January 1990 issued his recommendations for which military bases across the nation should be closed.

Chaney's list of 25 installations included Moffett Field
That year Congress agreed to remove Moffett from the list, but the reprieve was temporary. By April 15, 1991, the Naval Air Station was on a new "hit list". As it had many times in Moffett's history, the Peninsula wanted to have its say in the airfield's future.
In response to the federal government's decision, officials from the cities of Mountain View and Sunnyvale joined forces with local chambers of commerce, Silicon Valley aerospace and research and development industries and other local businesses. Their goal was to retain the airfield as a federal joint-use facility under the control of NASA Ames Research Center.
Other suggestions for the base ranged from converting it into a civilian airport to using the site for housing. But those supporting the NASA proposal argued that unlike other bases, the Moffett Field complex was an irreplaceable resource to the nation. The airfield should be retained in order to preserve the unique interdependence that exists between the airfield's federal tenants and users and Silicon Valley industries.
By December 1992, the federal government had made its final decision and the official documents were signed. The stewardship of NAS Moffett Field would be transferred to NASA. During the past 60 years, NAS Moffett Field has been recognized as a center for innovation in aviation as well as a significant contributor to the nation's defense capabilities. The efforts by local businesses and governments - similar in many ways to the regional campaign that led to the creation of Moffett 60 years ago - has ensured that under the direction of NASA the facility will remain a vital and valued resource to the Peninsula and to the nation.
Services for the Fleet
With the exception of the early years of the squadron' s existence, when its mission was primarily the towing of aircraft targets for aircraft gunners and secondarily ship gunnery, the primary function of Utility Squadron One has been 'Services for the Fleet'. This includes: towing of anti-aircraft targets, radar and radar fire control, calibrations, photography of surface firing, mapping, transportation, and fighter-director training and exercises for both shore bas6d and sea borne units. From September 1935, until June 1940, this squadron also maintained, on a twenty-four hour basis, a crash and rescue plane, ready for immediate flight to the scene of crashes and rescues in the vicinity of the Naval Air Station, San Diego, California.
In 1935, due to the nature of the services required, the squadron was placed under the Base Force and was attached to the USS WRIGHT. Brief histories of the ships that Utility Squadron One was attached to has been included to provide background for VJ-1's activities.
From the time of her arrival at NAS, North Island, on 20 February 1932 until 10 September 1939, Wright made 14 extended cruises in support of naval seapl ane squadrons. The first of those began when she departed San Diego on 1 May 1933 for an aviation transport run that included an inspection by Rear Admiral John Halligan, Commander, Aircraft Squadrons, Battle Force, of the Fleet Air Base (FAB) at Pearl Harbor. After returning to San Diego on 4 June, Wright operated along the west coast, followed by a cruise to Panama and the Caribbean, between 31 August and 14 October, tending the planes from VP-2F, VP-SF, VP- 10, and Utility Patrol Squadron 3.
Although it changed its ship base many times, it remained under Base Force until the outbreak of the war when it became a part of Service Force under whose command it is today. Utility Squadron One has been attached to the USS WRIGHT, USS LANGLEY, USS TEAL, USS ARGONNE and the USS BIEGEL.
U.S.S. Argonne
U.S.S. Argonne was a repair ship and Flag Ship for Admiral Calhoun, Base Force Commander of the Pacific Fleet. Argonne joined the fleet, transited the Panama Canal, and ultimately arrived at San Pedro on 9 November 1934. As Base Force flagship, she provided tender and repair services for minesweepers, tugs, and harbor craft, while maintaining the only major photographic laboratory for photo-triangulation of fleet gunnery exercises. Over the next seven years she operated principally out of San Pedro, but followed the fleet to the waters of Hawaii or Panama to carry out her vital support duty.

On 25 July 1940, her classification was changed from submarine tender to "auxiliary, miscellaneous," and she was given the alphanumeric hull number AG-31. Eventually, with the movement of the Fleet to Hawaiian waters over the winter of 1939 and spring of 1940, commencing with the establishment of the Hawaiian Detachment in October 1939 and the permanent retention of the fleet in Hawaiian waters upon the conclusion of Fleet Problem XXI in April 1940, the needs for auxiliaries such as Argonne resulted in a change of scene for that ship. In August 1941, she was shifted from San Pedro to Pearl Harbor.
On the morning of 7 December 1941, Argonne - flagship for Rear Admiral William L. Calhoun, Commander, Base Force, Pacific Fleet - lay alongside 1010 Dock, when aircraft from six Japanese carriers struck the Pacific Fleet as it lay at Pearl Harbor, and neutralized surrounding air and military installations. The ship manned her antiaircraft battery - 3-inch guns and .50-caliber machine guns - and commenced fire about 0758, shortly after the raid began. Argonne's crew, wrote Comdr. F. W. O'Connor, the ship's commanding officer, "performed their duties in accordance with the best traditions of the service," helping to get wounded men from damaged ships, recovering bodies from the water, and "assisting with repair facilities to full capacity." Early in the raid, Corporal Alfred Schlag, USMC, from the ship's marine detachment, manning a .50-caliber machine gun, claimed shooting down an enemy plane as it flew over 1010 dock and turned toward Ford Island. Interestingly enough, a member of Argonne's crew was actually attacked before his ship was; Motor Machinist's Mate 2d Class M. F. Postons was taking flying lessons. Returning from Haleiwa to the KT Flying Service field, flying a light training plane, Postons and Bob Tice, the latter the owner of the flying service (who was flying an accompanying plane) were both attacked by Japanese planes which shot them down. The one attacking Poston's light sport plane shot away the propeller and engine, forcing the Argonne sailor to take to his parachute. That evening, six fighters from the carrier Enterprise (CV-6), sent to land at the Naval Air Station at Pearl Harbor after accompanying a strike group looking for the carriers from which the Japanese raid had been launched, arrived over Pearl. Tragically, before the planes' friendly character could be established, understandably jittery gunners shot down four of the six planes; three pilots were killed. One .50-caliber bullet fired from the direction of Ford Island penetrated Argonne's port side, killing Seaman 2d Class Pallas F. Brown and wounding Seaman 1st Class Leonard A. Price. In a bitter irony, both men had survived the loss of their ship, Utah (AC-l6), earlier that morning.
"The Covered Wagon"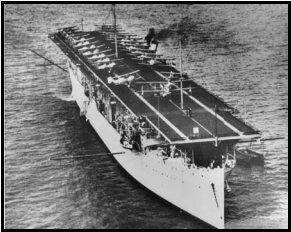 Langley (CV 1) was officially commissioned on March 20 1922. The carrier was named after one of America's pioneers in aeronautical science - Samuel Pierpoint Langley.
On October 17, 1922, a Vought biplane, piloted by Lieutenant V.C. Griffin, rumbled off the wooden flight deck of the USS Langley at anchor in the York River. This was the first takeoff from a U.S. Navy carrier. The USS Langley was the Navy's first aircraft carrier.
1922 was a year full of historic events, including the first landing while underway October 24 and the first catapult launch November 18.
The Langley, the Navy's first electrically propelled vessel, was built as the collier USS Jupiter at Mare Island Naval Shipyard and launched in 1911.
On February 27 1942, the USS Langley (CV 1) was sunk by Japanese bombers south of Java. Converted at the Shipyard from the coal ship USS Jupiter (AC 3) from 1919 to 1922, the carrier was converted into a seaplane tender in 1937.
USS TEAL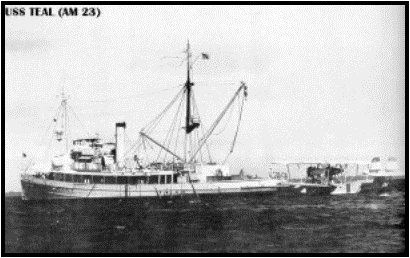 Through the end of World War I and into the spring of 1919, Teal served in the 4th Naval District patrolling off the shores of New Jersey, Delaware, and Pennsylvania. On 20 April 1919, the minesweeper reported for duty with the North Sea Minesweeping Detachment. As a unit of Mine Division 2, she labored to clear the North Sea Mine Barrage and remained in European waters until the task had been completed late in the fall of 1919.
Upon her return to the United States toward the end of November, Teal was modified for service as an auxiliary aircraft tender. Although not officially designated a "minesweeper for duty with aircraft" until 30 April 1931, she nevertheless served in this capacity throughout the 1920's and into the 30's. Operating out of Norfolk, Va., from the Caribbean in the south to Narragansett Bay in the north, Teal supported operations with the air squadrons of the Scouting Fleet. Frequently in company with Wright (AV-1) and Sandpiper (AM-51), and later with Lapwing (AM-1), she visited the Panama Canal Zone where she serviced the squadrons based at Coco Solo. Her normal schedule alternated winter maneuvers in the Caribbean-Gulf of Mexico area with summer training along the New England coast.
By the mid-1930's Teal's home port was Coco Solo, whence she operated with Patrol Wing (PatWing) 4. Teal was redesignated a small seaplane tender, AVP-5, effective on 22 January 1936. On 18 October of the following year, she and PatWing 4 were reassigned to Seattle, Wash. For almost five years, Teal operated throughout the Aleutians chain in support of PatWing 4 operations.
Soon after the opening of hostilities between the United States and Japan, Teal moved south to the California coast. In January 1942, the small seaplane tender was assigned to the Pacific Southern Naval Coastal Frontier, the short-lived forerunner of the Western Sea Frontier, but she remained administratively under the commander of the Scouting Force aircraft. She tended the planes of PatWing 8 until March. In July, Teal returned to Seattle and duty with PatWing 4 in the Pacific northwest and Alaska areas. Until the end of the war, the small seaplane tender plowed the icy seas between the Aleutian Islands and along the Alaskan coast. She continued to support flying patrol boats, but the drain of warships from the Alaskan theater to other, more active areas frequently required her to be pressed into service as an escort and sometimes as a re-supply transport. Shortly after the cessation of hostilities on 23 November 1945, Teal was decommissioned at Seattle, and her name was struck from the Navy list on 5 December 1945. On 19 January 1948, she was delivered to the Maritime Commission at Port Nordland, Wash., and simultaneously sold to Mr. Murray E. Baker.
In 1935 the services of a plane for aircraft rescue work was urgently required. It was apparent that the plane had to be of an amphibious type in order to attend crashes on either water or land. The arrival of the JF-1 type aircraft in the squadron fitted this need extremely well and a plane of this type was placed on a twenty-four hour "manned and ready" status. This "ready plane", as it became known, was maintained at San Diego by Utility Squadron One until the squadron's departure for Pearl Harbor in June, 1940.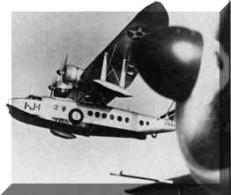 Sikorsky JRS-1
Type: utility transport amphibian flying boat
Crew: 3-4, with 15 passengers
Armament: none
Specifications:
Length: 51' 2" (15.60 m)
Height: 17' 8" (5.38 m)
Wingspan: 86' 0" (26.21 m)
Wing area: 780.6 sq. ft (72.52 sq. m)
Empty Weight: 12,750 lb (5783 kg)
Max Weight: 19,096 lb (8662 kg) max at takeoff
Propulsion:
No. of Engines: 2
Powerplant: Pratt & Whitney R-1690-52 Hornet radial
Horsepower: 750 hp each
Performance:
Range: 775 miles (1247 km)
Cruise Speed: 166 mph ( 267 km/h) at 7000 ft
Max Speed: 190 mph ( 306 km/h) at 7000 ft
Ceiling: 20,700 ft (6310 m)
Although this "ready plane" was kept primarily for rescue work at sea, it was also called upon to transport medical help to land crashes. For two years it was stationed adjacent to the Dispensary Building at Naval Air Station, San Diego, and, when required, a doctor could be dispatched by air in a moment's notice.
SKIRKOSKY JRS-1 FLYING BOAT

S/N

REG.

MARKINGS

STRICKEN

REMARKS

4329

#0504

1-J-1

11-43

To VJ-1RIGEL 7-37. Pearl Habror 7-41. NAS San Diego 11-42. To VJ-1 7-43.

4330

#0505

1-J-2

To VJ-1 San Diego. Crxd 12-31-38.

4331

#0506

1-J-3

11-43

To VJ-1 San Diego. To PH detachment of VJ-1 8-40.

4338

#1055

7-23-43

To VJ-1 San Diego RIGEL 6-6-38.
The number of crashes that were attended by this "ready plane" and the number of personnel saved is not known, nor could it be estimated, but records show that the plane often flew to as many as three and four crashes in a single day.
Early in 1936 the squadron's planes were first equipped with voice radio; all transmissions before this time having been by key or messages sent by the use of blinker lights. Many ships were not equipped with voice radio and C.W. transmissions remained very popular, due principally to improper microphone technique or faulty voice circuits.
Late in September 1935, the USS UTAH was equipped with the latest in anti-aircraft armament and was designated as an anti-aircraft gunnery ship; two or three planes from Utility Squadron One left San Diego each morning, weather permitting, and were based for the day at the Naval Reserve Air Station, Long Beach, California, while providing services for the ship. Due to the large number of runs required by this ship and the large number of target sleeves used, steps had to be taken to devise a means to exchange targets
USS UTAH
The UTAH left the waters of the Atlantic in June 9, 1932, as it set sail for San Pedro, California via the Panama Canal. Twenty-one days later it joined Training Squadron One, U.S. Pacific Fleet.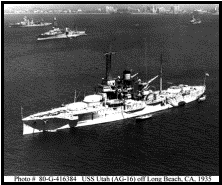 During this period the UTAH realized its full potential as a target ship. In retrospect, a common misunderstanding about the UTAH is its role and appearance. During those years the ship's role was to duplicate conditions of battle maneuvering that could test the skills of those who were being trained to attack from air or sea. Air attack on the UTAH was not without hazards during remote and manual operation. It has been estimated that dive bombers scored hits 15 percent of the time and high-altitude horizontal bombers about 5 percent. The practice bombs were inert but struck the ship with such velocity and force that it could penetrate the steel decks.
The UTAH has been almost forgotten. Seldom honored by public visits, it rests in the waters of Pearl Harbor as a distant memory of America's most remembered day, a sad epitaph for a fine battleship. The construction of the USS UTAH was part of an early 20th-century arms race, at the time when global military supremacy was determined by control of the seas. The USS Utah (AG16) rests on the west side of Ford Island in Pearl Harbor, Hawaii. The USS Arizona is the most remembered and revered. This is as it should rightly be; however, the Utah still remains virtually obscure under the Arizona's shadow.
In June 1940 the Squadron embarked on the USS Yorktown for duty at NAS Pearl Harbor, Hawaii (Ford Island) and was there along with VJ-2 on December 7, 1941.
USS YORKTOWN
The third Yorktown (CV-5) was laid down on 21 May 1934 at Newport Ne

ws, Va., by the Newport News Shipbuilding and Drydock Co.; launched on 4 April 1936; sponsored by Mrs. Franklin D. Roosevelt; and commissioned at the Naval Operating Base (NOB), [534] Norfolk, Va., on 30 September 1937, Capt. Ernest D. McWhorter in command.
Following Fleet Problem XX, Yorktown returned briefly to Hampton Roads before sailing for the Pacific on 20 April. Transiting the Panama Canal a week later, Yorktown soon commenced a regular routine of operations with the Pacific Fleet. Operating out of San Diego into 1940, the carrier participated in Fleet Problem XXI that April.
The early news from the Pacific was bleak: the Pacific Fleet had taken a beating. With the battle line crippled, the unhurt American carriers assumed great importance. There were, on 7 December, only three in the Pacific. Enterprise, Lexington (CV-2), and Saratoga (CV-3). While Ranger (CV-4), Wasp (CV-7), and the recently commissioned Hornet (CV-8) remained in the Atlantic, Yorktown departed Norfolk on 16 December 1941 and sailed for the Pacific, her secondary gun galleries studded with new 20-millimeter Oerlikon machine guns. She reached San Diego, Calif., on 30 December 1941 and soon became flagship for Rear Admiral Frank Jack Fletcher's newly formed Task Force (TF) 17.
The JF-1(s) served in VJ-1 attached to the USS WRIGHT with utility units aboard the USS SARATOGA, USS LEXINGTON, U.S.S. Argonne, and aboard the USS HERON in the Asiatic Fleet. The JF-2 (Design 9) was built in 1934-35 as an unarmed utility aircraft for the U.S. Coast Guard. The JF-1 of VJ-1 carried Green tail surfaces and main float tip. VJ-1 was the primary user of JF-1(s).
USS LEXINGTON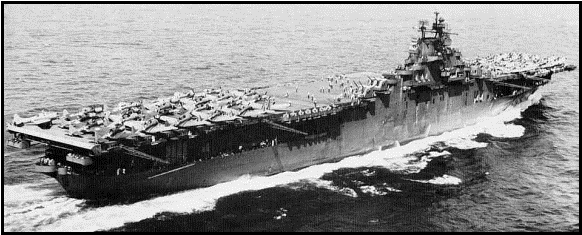 Commissioned in 1943, USS LEXINGTON CV-16 served longer and set more records than any aircraft carrier in the history of the United States Navy. During World War II, she saw action from Tarawa to Tokyo and was the first U.S. carrier to enter Tokyo Bay after the treaty was signed with Japan in 1945.
USS HERON
Several U. S. Navy ships have borne the name "HERON". The first HERON(AM-10) (1918-1946) took part in sweeping the North Sea Mine Barrage (1919). Heron recommissioned 18 December 1924 and reported to the Aircraft Squadron, Asiatic Fleet for duty as a seaplane tender. She operated principally in Chinese and Philippine waters, performing such diverse tasks as patrol, survey, target-towing, and plane-tending in addition to tactical maneuvers. Heron was reclassifled AVP-2 on 27 January 1936 and continued to play an important role in protecting American citizens and interests in the Far East.
Reclassified as a small sea plane tender (AVP-2) in 1936, she earned a Navy Unit Commendation and four battle stars in World War II.
J2F Grumman Ducks
The first JF-1s were delivered in late 1934. The last version was the J2F-5 and these were delivered in 1940. Most of the JF/J2F Ducks remained in service throughout WW II. They were operated from carriers and land bases in a variety of roles, including patrol, photo-survey, rescue and target towing.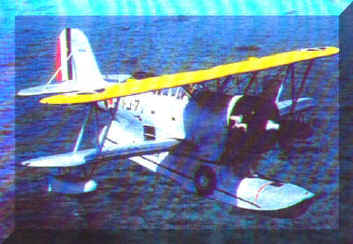 VJ-1 had JRS-1s Sirkorsky twin eng flying boats and J2F Grumman Ducks and VJ-2 had PBY-1 Catalina's which required beaching gear and also had J2Fs. VJ-1 got a JRS airborne with Marines with rifles aboard for firepower. They ran into a stray Jap aircraft but somehow managed to evade it. Luckily they didn't find the Japanese Fleet. In April 1943 the Squadron split and formed VJ-9 which went to Espertos Santos with PV1s.
September, 1939, saw a squadron detachment headed for Pearl Harbor, where it served until the arrival of the remainder of the Squadron with the Pacific Fleet in June, 1940.
FOR NEARLY a quarter of a century— 15 October 1942 to 16 May 1949— Utility Squadron ONE as bandy man extraordinary served the Pacific Fleet, doing what had to be done with out­standing efficiency. Its tasks, varied and often difficult, never stumped VJ-1 and if the Navy does not mourn its' passing, it is only because, like the Phoenix, the squadron rises from the ashes of decommissioning to fly again under the sign of VU-7 to which many of its officers and men were transferred.
To go back to the date of VJ-1's com­missioning, one must travel through time, through the first ·years of the atomic era, the long grueling months of World War II, the 1930's in which preparation was too often curtailed by (budget limitations), the late 1920's of boom and bust. Finally one comes to a bright October day at NAS SAN DIEGO, in 1925 when the squadron received its name and mission.
The very word "utility," which sug­gests a type of duty far from glamorous, has a special luster when a squadron gives year after year steady, effective service in many different ways. It may not be fun to be useful, it may not be dramatic, but it is essential. VJ-1 exhibited a devotion to duty never once broken and, as the "aerial handymen of the fleet," its members diligently carried out their assignments.
It was not by chance that the ships of the United States Pacific Fleet outshot' and outfought the best that the enemy could muster in World War II. It was VJ-1 and squadrons like it that had pro­vided the antiaircraft gunnery practice so essential to the fleet. And it hadn't been easy, for in. proc 'ring the materials to set up practice, the utility squadrons 'had to compete with combat units. But persistence paid off, and the utility squadrons won their battle of procure­ment sufficiently to train the fleet for AA duty, in the Battle of the Pacific. But in additional towing targets, the other tasks VJ-1 was called upon to do make a formidable list: torpedo photo and recovery, fighter director practice, calibration of radar and radio instru­ments, submarine coverage for protec­tion during maneuvers and tests, spot­ting results of large caliber 'and torpedo "live" firing' practice, ·radar practice, transportation of personnel and mail, air patrol and convoy 'coverage, search and rescue, and photography. Were it not to suggest a general incompetency - to do anything well, an' implication utterly contrary to the facts, the "J" in the squadron 'designation might well stand for jack-of-all-trades."
Right from the first, VJ-1 was called upon to do aerial photography 'and, maintained its own laboratory. The squadron's competency 'in this type of work was recognized when a detachment was ordered in 1926 to Dutch Harbor, Alaska, to do aerial mapping of an area hitherto uncharted. The measure of the squadron's success in this type of work is indicated by the fact that in 1934, VJ-1 participated in the Second Alaskan Aerial Survey Expedition which was sent to Kanaga Bay in the Aleutians.
In 1938, Cdr. Allen I. Price wrote of the struggle of utility squadrons to es­al "unit: Any attempt at a resume of Utility Squadron's history reads like and studied shing, spite contempt back like a bad penny; and it g instantly popping up until desperation
Some one has to do something about it.' That something was the organization of the Utility Wing in 1934." FROM 1935 on, VJ-1 supplied tow-target two antiaircraft schools, aboard the USS U:Long Beach and other on San Clement Island, California. Early in 4937, the squadron developed the fleet very much needed a type of practice, which enabled VJ-1 to simulate a dive-bombing attack. In April of the same year, 'the Sikorsky S-34 plane called by Navy JRS-1 arrive to make higher speed tows available for practice. To service the fleet, VJ-1 had to move its base frequently, and more than once it went to Panama during maneuvers in 'that area. In December 1938, the squadron flew 17 airplanes to Guantanamo, a hazardous undertaking in the type of planes then used. It could be tough -going and frequently it was The constant demand for new practices," a new service,' a. "new photo- graphic assignment a new night anti-1 aircraft practice" kept VJ-1 constantly on its toes, and while the succession of problems provided headaches, it also developed ingenuity.
In September 1939, a. detachment of VJ-1 arrived at 'Pearl Harbor and by June 1940, the ire squadron based there for further operations.
VJ-1 men were there when the Japanese struck 7 December 1941. The first awful shock of the enemy attack stunned VJ-1, but not for long. In the next instant, pilots and crews were fight­ing back. The Japanese, scornful of-utility planes painted green and orange, had let them practically untouched.
IN MATTER of minutes, officers and men had their J2F amphibians with machine guns mounted in the second cockpits turned against the enemy re­gardless of personal danger to them­selves. It was in virtually unarmed planes—every plane available—that utility pilots took off at 0950 in the midst of enemy action to seek the source of the attack. Some of the crew's grabbed rifles to take with them on the flights that ranged from six to eight hours. VJ-l's "Base Radio" took over communications at NAS PEARL HAR­BOR, when other facilities were damaged beyond repair.
The squadron that by virtue of sen­iority bad led many a Fleet Parade in the pre-war years lived up to its tradi­tion by being the first naval squadron to counterattack. The 'bad penny that kept coming back" was legal tender, earnest money on the full attack the Navy would make in the years ahead.
It is believed that the vj-i plane armed with Springfield rifles and piloted by Cdr. W. Ruth and Lt. E. C. Geise, later exec of the squadron, was the first plane to contact Japanese aircraft. Had this plane been able to extend its search 50 miles further, it probably would have located the elements of the main Japa­nese fleet. For many day's, the utility planes carried the brunt of search and patrol, exhibiting such heroism and exe­cuting such exploits that many were awarded Navy Crosses.
With war came a stepped up demand for every kind of service that utility squadrons were prepared to give as well as new services, which the conflict bred.
The long years of constant service found VJj-1 ready to take on heavier work than ever before and involved long, tedious hours seven days a week. As long' as there was no peace, there was no rest, and day and night in all kinds of weather, vj-1 averaged 35 missions a day.
The Fleet Photographic Laboratory deserves special mention for the great amount of work it turned out with no lowering of the high standard it had set in peacetime. It increased its output 430% during the war.
During the four years vj-1 spent at Pearl Harbor, it was used as a training outfit from which many other utility squadrons were formed. One detach­ment was based on Majuro atoll in 1944 where its members had "all the con­veniences" afforded by a newly captured base—living in tents and working in the open all day long.
Great credit must go to the excellent engineering work of the squadron, and the splendid record of efficiency of VJ-1 and the unbroken record of safe flying are due in great part to the reliable maintenance provided by VJ-1 ground crews. In 1944, during which vj-1 made 5,205 flights and logged a total of 10,549 hours, there were only two flight accidents, and even in these there were no injuries or deaths. With only .19 accidents per 1,000 hours, it was clear that vj-1 maintained a flight safety record under varied conditions and the high pressure of a constant demand for 24-hour flying that was beyond the dreams of statisticians.
On 31 July 1944, after a little over four years aboard, VJ-1 returned to Moffett Field and in 1945 celebrated 20 years of service. A few weeks later, it returned to Hawaii where, until it's de­commissioning this year, it continued its career. The year 1946 was marked by the Bikini bomb tests, VJ-1 taking pic­tures of the surface ships just before they headed westward.
Without the men that made up VJ-1 it is safe to say that the squadron might not have made the rec­ord it did. The roster of its command­ing officers contains such names as G. Child, R. F. Wood, A. P. Schneider, G. T. Owen, C. T. Simard, H. T. Stanley, and P. B. Tuzo, Jr. Through the years a nucleus of "old hands" trained the newcomers in the strange ways of "utility flying" and were responsible for keeping the "old crates" flying. They also were directly respon­sible for constantly improving methods of training the forces afloat. Space does not permit naming them all, but here are a few with their years of service in "Utility7" ACM M. H. Hanson, 13 years; Lt. E. C. Geise, 11 years, ACMM H. F. Harper, 10 years; Lt. Odie Malone, 10 years; Lt. (jg) J. D. Byrd, 9 years; and Lt. T. H. Bredesen, 9 years.
When vj-1—in the last three years it carried the official designation of vu-1, but old-timers clung to the original name was decommissioned 16 May 1949, it was a break with the past. But vj-1 can look back with pride and forward with anticipation, realizing as every member of that famous squadron must, that they helped to give a common word a special meaning, rich in experience and service—UTILITY.

Jacks -of -all-trades
the utility squadrons perform tough odd jobs
that combat and transport groups cannot do.
<![if !supportEmptyParas]> THEY seldom win Navy Crosses, but the utility squadrons throughout the South and Central Pacific are entitled to take a bow with many of the boys that do. One of the most important jobs in the combat areas is being done by these anonymous Naval flyers who lay the groundwork for a lot of the more spectacular aviation feats. For instance, if many of the utility boys didn't spend long grueling days towing targets, combat pilots would have to jump into battle without a vitally necessary last minute brush-up on gunnery.
<![if !supportEmptyParas]> One advanced base utility squadron is composed of 40 officers and 400 men and uses just about anything that will fly—Ventuars, Ducks, Dauntlesses, Avengers, and Catalina's.
<![if !supportEmptyParas]> The work of the units ranges from reconnaissance to rescues. The search at Tarawa, for example, was turned over to a VJ squadron for eight weeks. The utility people also rig up for pictures, tow targets for ship and plane gunnery, stage mock air battles for the fighter director experts, work for the search­light drill people, do reconnaissance work, transport materiel into inaccessible areas requiring seaplanes and do just about anything that nobody else wants to do.<![if !supportEmptyParas]> <![endif]>
Every pilot in the squadron is able to fly all the plane types available. They are among the most versatile pilots in any air force.
<![if !supportEmptyParas]> Miscellaneous rescue work forms an important part of their assignment. Not long ago they went over to a neighboring island to pick up a native chief who had blown off his foot while trying to fish with dynamite. They brought him to a hospital at Espiritu. saved his life, and won the complete alle­giance of his tribe.
<![if !supportEmptyParas]> Another dramatic rescue was performed by a young Navy pilot. Two Army pilots en route to Espiritu in Warhawks missed their terminus and made forced landings In the Torres Islands, 150 miles north, where they were located by search planes. The Navy flier departed in a Grumman Duck amphi­bian to return them to base. Penetrating a 100-mile wide front, flying 50 feet off the water in a driving rain, he arrived at Torres to land in an eight-foot sea off the beach. He was forced to cut his engine and lower his wheels as a sea anchor. Natives brought the Army pilots out in canoes; but the sea was so rough they were unable to come alongside; so the pilots had to swim up to the rescue plane. After this, however, the en­gine refused to start, and they began to drift down on a coral reef, with heavy surf running.
<![if !supportEmptyParas]> With 60 fathoms of water at the edge of the reef it was im­possible to anchor. But by good fortune a particularly heavy sea lifted the amphibian over the first reef just in time, and the engine fell into the swing of this new development by start­ing up. Keeping the power on, he waited for a large wave and used its lift to shoot over the outer reef into open water. Then he taxied four exceedingly rough miles around the island to a semi-sheltered area and took off for Espiritu. 'The return trip through bad weather was without incident," he wrote in his report.
<![if !supportEmptyParas]> Rescue work is commonplace for the utility squadrons. They operate several hundred miles out to sea and usually are air­borne within five minutes after the call comes In They aver­age a rescue and a half a week. Hauling medical supplies is also part of their job; recently they made a long flight to pick up a missionary and his wife and child all dangerously ill with malaria.
On occasion, the conditions under which they perform are rugged in the extreme. At one island there is no good landing and take-off area, but this factor has never deterred plane op­erations Normal procedure is to have men hang on to a tow rope while the pilot guns the engine; then they let go simul­taneously and the plane executes a quick get-away.
<![if !supportEmptyParas]> Makeshift operations are commonplace with the utility units. Since their missions are so varied they frequently must work out new devices to meet new situations. Fighter director prac­tice is a case in point. This Important work, it was found in the advanced zones, needs constant polishing under simulated combat conditions. To take care of this the utility pilots form into two teams, one representing the Navy and the other the enemy. The enemy team flies out a considerable distance and starts in the fighter director group, generally based upon some ship, then attempts to scramble the Navy fighters in such a way as to make an interception.
<![if !supportEmptyParas]> Day after day the utility pilots tow targets, not only for flyers to practice on, but for ships gunnery as well. A good deal of the accurate marksmanship now found throughout the meet can be attributed to the monotonous towing hauls of utility squadrons. It is not unlikely for one of these patient pilots to make three four-hour towing hops in a single day, and then go up to repeat the performance the next day, Utility work is unglamorous and attracts relatively few recruits, which means that the squadrons are frequently short-handed and forced to double up on flying time. Also, after several days of inclement weather it is necessary to double flight periods during the sunny period.
<![if !supportEmptyParas]> Often the Japs spot utility planes and make it hot for them. And now and then a utility plane will make it hot for the Japs. A Ventura was once jumped by five Zeros while making. routine recon­naissance flight "up the slot" in the Solomon's. The utility crewmen were so pleased at the prospect of action, after a long stint of dull hops that they turned on the Zeros with glee. Startled at this vio­lent reception, the Japs turned tall for home, one of them streaming smoke from hits in his engine nacelle.
<![if !supportEmptyParas]> Even the lightly-armed and armored Ducks have tangled with Japs, and with surprising success. The rule seems to be that the average Zero pilot is so amazed by belligerence from these little amphibian ­ that he fails to press home a vigorous attack. A utility plane carrying a load of typhoid serum was set upon by a float Zero in the Vicinity of Espiritu Sanito. Al­though the Zero had superior speed, the seaplane pilot was able to duck in and out of clouds and shake off the Jap. Every time the Zero got close, the Navy pilot disappeared into a cloud, and every time he came out of the cloud he sent a lively- fusil­lade of lead at the Zero. At length, after losing part of the rudder and a sizable piece of wing, the Jap finally sensed that he was being outsmarted and flapped off toward home. To snake the indignity more binding, the utility pilot followed along for several miles, happily but ineffectively working his machine gun.

Navy Publications (War years)
The music for those that may not recognize it - is "Ghost Riders In The Sky"! I can't resist adding music to "web pages" - as it adds ambience to a static page. This song while not of a military nature is haunting and seems to me to fit; as many, many of the squadron's planes now fly only in the memories of those who flew them or worked on them. WEB MASTER